LM-111GM
Neonatal Resuscitation Simulator-Advance LM-111GM
This model is only available in US, Canada, UK, Germany, France, Spain, Netherlands and China.
Outline
Designed for training in neonatal cardiopulmonary resuscitation (NCPR), the latest Neonatal Resuscitation Model adds the new functions of "Heart Sound," "Respiration Sound" and "Voice" while retaining all the previous version's features. All functions are easy to operate Wirelessly with a tablet PC.
Features
In addition to the functions of the previous "Neonatal Resuscitation Model", heart and respiratory sounds can be auscultated on the chest, and a crying voice can be heard from the mouth. Heart, respiration, and voice sounds can be easily controlled on a tablet PC.
The tablet PC can display the heart rate and SpO

2

as a simulated monitor.
This product is made of a silicone rubber that has a realistic texture and feel.
Elevation of the chest can be observed through positive-pressure ventilation utilizing a bag valve mask, etc.
The airway can be managed by utilizing the tracheal tube or laryngeal mask.
With deep-seated intubation of the tracheal tube, elevation of the right lung can be checked during tracheal intubation. (One-sided lung intubation)
A tube can be inserted for oral and nasal suction.
Chest compression can be practiced. The xiphoid process of the sternum can also be checked.
Umbilical vein catheterization can be practiced.
Pulsation at the base of the umbilical cord can be measured to determine the heart rate.
Application screen (operation screen)
The simple operation screen makes simulation training easier.
HR
Model makes heart sounds at the selected numerical rate.
SpO

2

Selected SpO

2

value is displayed in Monitor Mode.
Monitor Mode
Switch screen to Monitor Mode.
Respiration
You can select the combination of respiration and voice.
Monitor mode
Can display the heart rate and SpO2 as a simulated monitor.
* The electrocardiogram is a still image.
* The tablet PC does not come with the kit.
Practical Training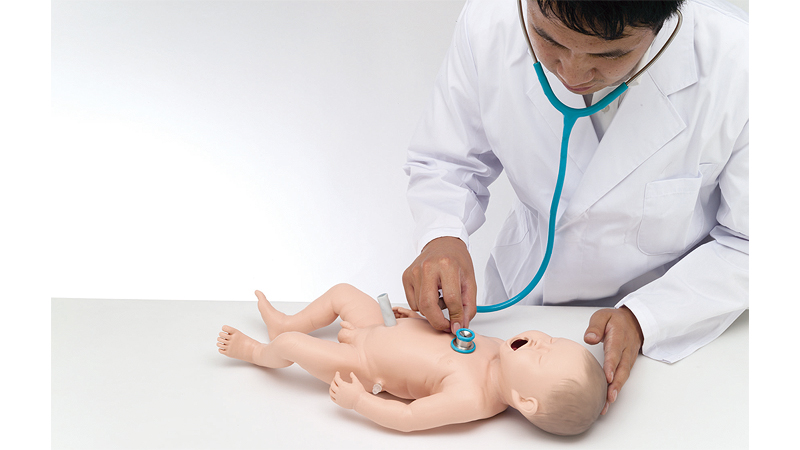 Auscultation of heart and respiratory sounds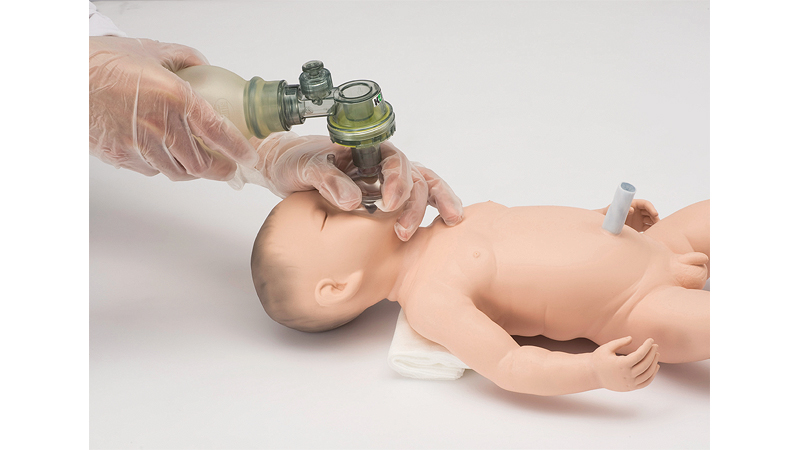 Bag valve mask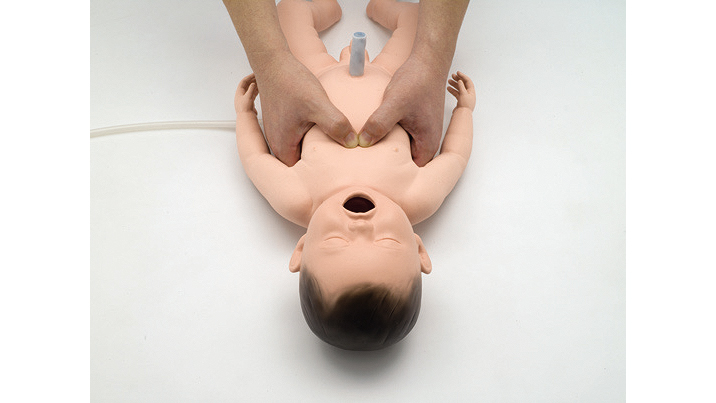 Chest compression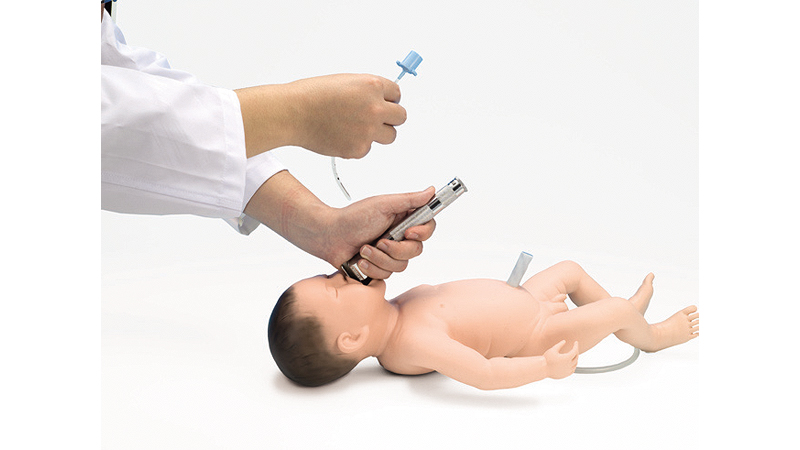 Tracheal intubation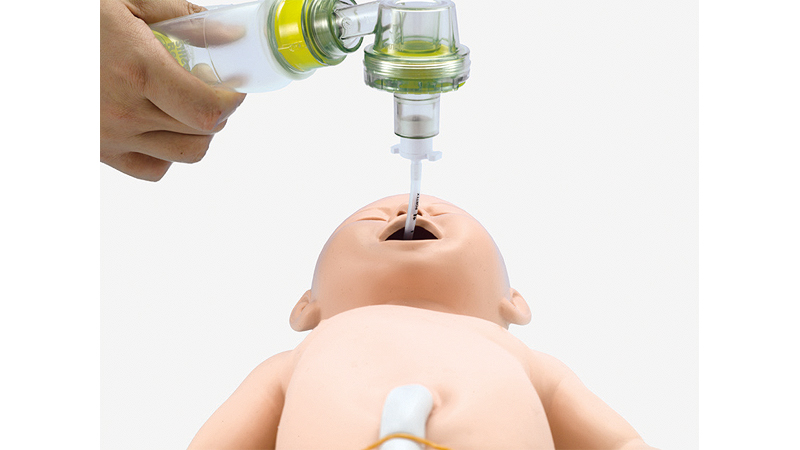 One-sided lung intubation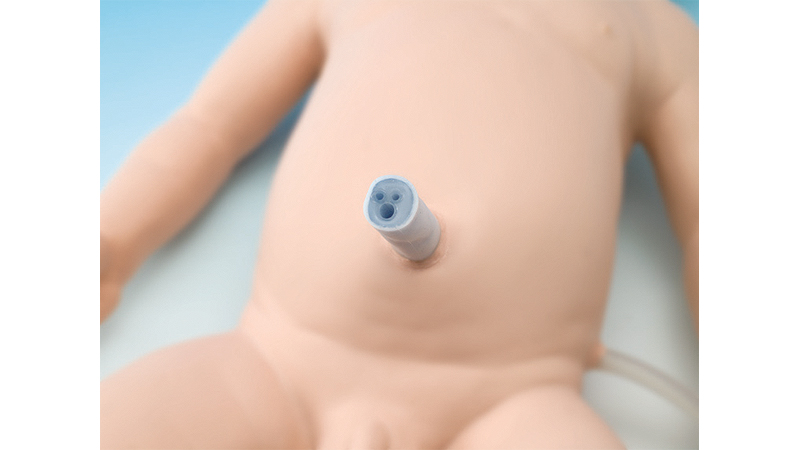 Umbilical cord
Pulsation of the umbilical cord
Pulsation at the base of the umbilical cord van be measured by squeezing and opening the pump for umbilical cord pulsation protruding from the model.
Moreover, by releasing the connector on the left flank of the model, the tube for umbilical cord pulsation can be removed. Please remove the tube when it is not needed.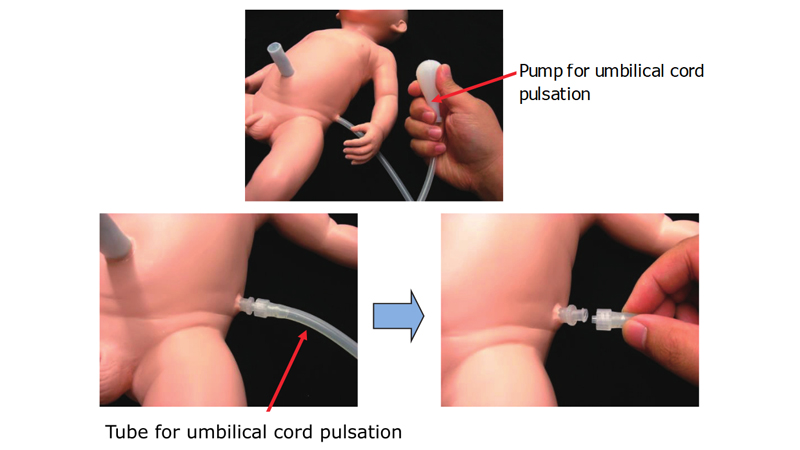 Components
| | |
| --- | --- |
| Main body | 1 |
| Storage bag | 1 |
Specifications
| | |
| --- | --- |
| Height | Approx. 50 cm |
| Weight | Approx. 2.5 kg |